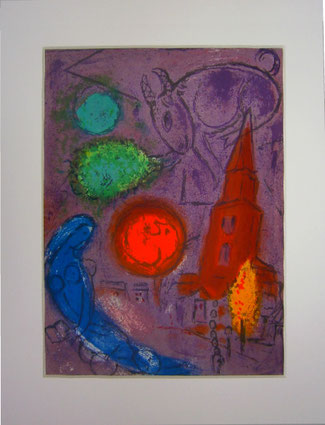 25 jaar geleden besloten wij om ons uitsluitend op de veelzijdige kunstenaar Marc Chagall te richten en betrokken enkele jaren later onze nieuwe galerie aan de Spiegelgracht  met ruim twee duizend van diens grafische werken. De galerie werd ondersteund door een prachtige website - eind vorige eeuw nog een unicum en samen met Anneke Schat de enige twee in het Spiegelkwartier van Amsterdam.
Dit jubileum willen we vieren met een aanbod van Chagalls beroemde litho's die verschenen in de catalogus van zijn Maeght-expositie in juni 1954: de meest kostbare DLM-uitgave ooit verschenen!  De kleurenlithoreeks is vrijwel nergens meer in ongeschonden staat verkrijgbaar en wij bieden u deze kleurrijke litho's aan tegen de helft van onze normale prijs. 
Maak een afspraak voor een bezoek met de huidige galeriehouder Erik de Wolf per mail (galerie @chagall.nl) of per telefoon (06.4269.4446) en vier zo ons jubileum een beetje mee! 
-----------------------------------
25 years ago we decided to focus exclusively on the versatile artist Marc Chagall. A few years later  we moved into our new gallery on the Spiegelgracht with more than two thousand of his graphic works. The gallery was supported by a beautiful website - still unique at the end of the last century and, together with Anneke Schat, the only two in Amsterdam's Spiegelkwartier.
We would like to celebrate this anniversary with an offer of Chagall's famous lithographs that appeared in the catalog of his Maeght exhibition in June 1954: the most precious DLM edition ever published! The color lithograph series is virtually nowhere available in undamaged condition and we offer you these colorful lithographs at half our normal price.
Make an appointment for a visit with the current gallery owner Erik de Wolf by mail (galerie@chagall.nl) or by telephone (06.4269.4446) and celebrate our anniversary a bit!